Thinking back ten, even twenty years ago, it is hard to understand how marketers got anything done without today's technologies, especially Martech Stacks. But it happened, and for some of us, it felt like a simpler time. There were fewer channels to contend, fewer data to analyze, and not such an always-on mentality. Indeed, there weren't billions of technology acronyms to decipher. I mean, come on. From CMS to CRM, DMP, DAM, MRM, PIM, and…you get the picture — it is all a bit overwhelming.
With technology comes benefits like efficiency, brand safety, and scale. It seems there is a solution to help you with every marketing challenge out there. Maybe it is worth learning a few acronyms if they (or rather what they stand for) make our jobs as marketers easier. So, if you can look past the acronym overload for a moment, we'll peel back the layers of three critical, often misunderstood technologies in your Martech Stack — DAM, CRM, and MRM.
In this article, we'll address the following questions:
All right, let us dive in!
What is a DAM system?
A DAM system is a technology solution that allows you to manage, organize, and distribute your digital assets from a central hub. It helps you connect your digital assets (like videos, images, photos, documents, and audio clips) with your teams and partners so you can all deliver meaningful, measurable customer experiences. To qualify as a true DAM solution, it must meet specific characteristics; these features address different stages of the content lifecycle and its management. They range from digital asset ingestion to security, storage, workflow, search, publishing, and more.
While some systems are more robust than others, all DAM systems help you with:
Storage: Keep your digital assets in a secure centralized location. Users can quickly and easily find what they need through robust search capabilities—no more digging through shared drives or worry about outdated or expired content.
Management: From creation to distribution to archive, manage the entire lifecycle of your content. Improve workflows, streamline approvals, and empower users to convert file formats on the fly. Protect your brand from reputation and legal damage with permissions, copyright safeguards, and version control.
Distribution: Share content with partners, agents, and collaborators via share links and microsites. Publish your content to digital channels via embed codes that automatically update content based on the master file stored in your system.
Measurement: Understand who uses your content, as well as when, where, and how. Identify the most effective digital assets so you can redirect budget and resources toward the creation of high-ROI content.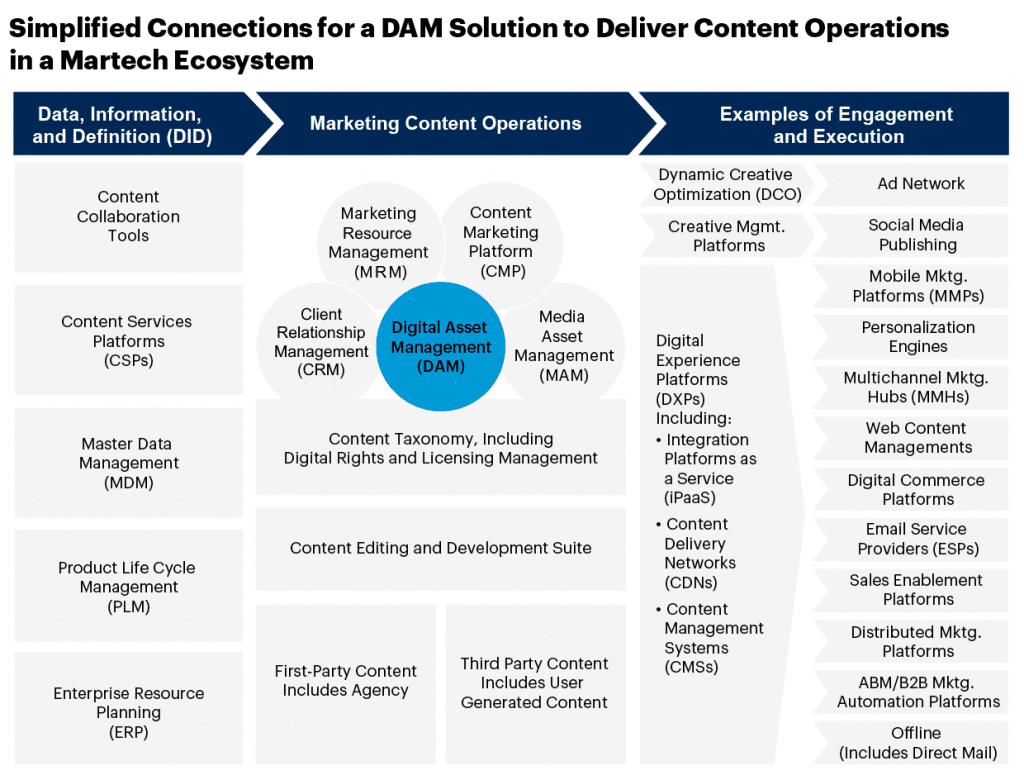 What is a CRM system?
A CRM system manages all your contacts and aggregates lead and customer information to build profiles of everyone you and your company interact with. This gives you easy access to critical information on customer behavior like purchase records and previous communications with contacts across different channels (social media, chat, email, and others). Customers won't have to repeat their stories repeatedly to you, and you'll be able to address issues with best practice and less effort for improved customer loyalty.
Just like with DAM systems, solutions vary, however, most CRM systems help you with:
Contact management: an element of CRM that sometimes goes by customer management software is a vital CRM capability. It allows users to segment their contacts into groups to organize and better cater to them. With this CRM capability, you will gather crucial customer data and bolster your marketing strategies when introducing new products. It also improves the personalization of all contacts with customers, making them feel important and catered to. This is a crucial factor in customer satisfaction!
Sales Team and Customer Opportunity Management: Quantifying your sales team's opportunities is a relatively essential CRM feature. Referred to as lead scoring, it allows users to identify the customers that are most likely to convert. This helps streamline sales/marketing teams, improve efficiency, and optimize your sales process.
Lead Management for Determining High-Quality Leads: No CRM feature list would be complete without mentioning lead management. This technology allows a business to determine the best customers to follow up on demographic and psychographic factors. Like lead scoring, it improves your sales team's efficiency and productivity by helping them focus on the right leads at the right time.
Pipeline Management: Sales Pipeline performance management offers a range of benefits to sales teams. Managers can easily see what aspects of the sales team are performing well and which need improvement. Data can be organized by a sales rep or by other quantifiers. You can manage the performance of sales partners from the platform to ensure your team performs at its best. By identifying problem areas with concrete data, they can be more efficiently addressed.
Case Management/Customer Satisfaction: As the name states, customer relationship management software is about managing your relationships with your customers. Users can manage each customer case individually and efficiently to improve customer satisfaction levels with CRM. Track, close, and reopen existing cases with this useful feature. Online case management also allows you to manage any confidential information in a secure environment. You can ensure your customers' and leads' sensitive information is kept away from prying eyes that might use that data for identity theft or other harmful activities. This is essential because it helps you avoid cybersecurity issues and data leaks.


What is an MRM system?
An MRM system is a technology solution that provides you with a way to manage the backend operations, people efficiently, and processes that power your marketing programs and campaigns. An MRM system shines when it comes to day-to-day operations by helping you manage workflows, as well as plan, track, and allocate marketing resources more efficiently. Ultimately, it frees up your time internally so you can focus on the next significant initiative and ensures you direct your energy toward the right efforts.
MRM systems address the following operational processes within a marketing organization:
Planning: Receive a comprehensive overview of all marketing activities so you can allocate budgets and resources efficiently. Reference historical data to position yourself for success and meet your campaign or project goals.
Workflows: Manage and align the people and processes needed to take the initiative from concept to reality. Organize processes, track progress, view upcoming activities, and keep approvals, costs, and deliverables on track.
Collaboration: Centralize content, information, and processes so everyone involved in a project — from freelancers to agencies, project managers, designers, and more — can efficiently work together. While MRM systems can help you centralize digital assets, you typically only use this feature for project-related assets (not your entire digital asset library).
Measurement: Understand and optimize the ROI of your marketing efforts. Highlight and fix workflow bottlenecks, evaluate campaign performance, and identify areas to cut or move the budget.


Is a DAM, CRM, or MRM system right for you?
Determining if you need a DAM, CRM, or MRM system depends on your organization's unique goals, needs, and priorities. It is not always a one-or-the-other situation. Some organizations benefit from having all three! Just make sure you know about their integration capabilities before selecting.
So, which systems are right for you? If you find yourself nodding your head "yes" to any or all the below checklists, it is a good indication that you are ready.
Signs you need a DAM system
You have a large volume of digital assets.
Multiple people, teams, and partners need frequent access to your digital assets.
Nobody can find files scattered across shared drives, desktops, and file-sharing systems.
Multiple people collaborate and are involved in reviewing or approving creative assets.
Your creative team spends too much time on file conversions.
Your assets have restricted or regional-specific use cases.
Your assets require special instructions (such as brand or legal guidelines).
You need to protect your brand and build a strong brand presence across multiple channels.
You use assets across other systems (like marketing automation, customer relationship management, sales enablement tools, etc.).
Signs you need a CRM system
You have a large volume of clients to manage.
You have multiple pipelines, and contacts (leads and customers) change frequently.
You need to collect and unify client information from various sources and data providers.
You need to identify and fix inconsistent client contact data.
You have multiple sales and marketing channels that rely on robust, up-to-date data.
You have seasonal demand, or time to market is critical.
Your customer management processes are inefficient and manual.
You provide or want to provide your customers and leads with much valuable information.
You use contact management software, but it does not meet all of your needs.
Signs you need an MRM system
You have a large volume of marketing campaigns and projects to manage.
You need a big-picture view of all your marketing efforts.
You're focused on costs and improving the ROI of your marketing efforts.
Your current operational processes are inefficient and create workflow bottlenecks.
You have dispersed marketing teams that need to collaborate.
You need to manage and optimize project budgets and expenditures.
It would be best if you had safeguards to ensure that marketing content is brand-compliant and consistent.
It would help if you improved communication between teams and launch campaigns and initiatives faster.
You spend more time justifying your marketing efforts than planning and executing strategies.
Most Martech strategies rely on one or two of these core tools to function adequately; the best solutions usually have a digital maturity level that allows the use of all three in an integrated manner.
Contact us if you need a robust MarTech Stack and digital enablement process for your enterprise.
Sources: 
Gartner DAM market report 2020, 
Widen Blog, and 
"MRM: making DAM and CRM stick together: The ten functional areas of marketing" – Springer 2007, Romek Jansen & Frans Riemersma